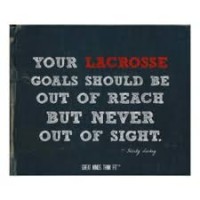 -January 5th, 2014-
We see it and we hear it all the time.
I want to (insert your long term goal).
I want, that's easy to say.  There is nothing wrong with wanting something but it's your attitude, actions and commitment to pursuing this goal that turns I want into I have. It's just a thought or a dream for most unless you are one of the few people who are willing to ACT!
You want to make a rep lacrosse team? Play NCAA Division I ball?  Play Pro lax and get paid to play the greatest sport in the world?
These are long term or outcome goals.  These are the results of achieving little things that culminate in finally reaching the things you really want.  If you want these things you need to determine what needs to happen in order to turn I want into I have.
If lacrosse is your sport and this is your off season are you really doing everything you can?  Are you working on becoming a better athlete? Speed, strength, power, agility and conditioning are all athletic skills that you can develop to become a better player.  These are the physical skills that to help you reach your athletic potential.  This is the work you do without the stick in your hands.
Playing is fun. Playing is the reward. But to play at the highest level that takes hard work and determination.
One of the greatest athletes of all time was Michael Jordan.  He had determination.  His will to win and the work he put in to achieve great things away from the court was legendary.  He was cut from his high school basketball team. He WANTED to play basketball and he was willing to take any ACTION to achieve this.
He ended up having a pretty decent career but perhaps he made it look too easy:
We have all heard that guy say I could have,  "I could have played but.. "
If you WANT, act like it. Don't be that guy.
Tags: Goal Setting, Goals, Michael Jordan