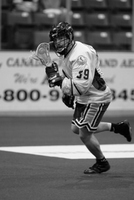 Sean Holmes is a Certified Strength and Conditioning Specialist (C.S.C.S.) and a Youth Speed and Agility Specialist (Y.S.A.S.). He has a Bachelor of Arts from the University of Guelph in Sociology and a Bachelor of Arts (Honours) from York University in Kinesiology and Health Sciences.
Sean has many years experience and has trained thousands of athletes from all sports and ages, both amateur and professional including athletes from the CFL, NHL, NLL, NCAA, and OHL.
Sean is the Owner of The Dynamic Athlete, located in the Toronto Rock Athletic Centre. It is the premier center for Lacrosse Strength and Conditioning in the world.
Sean grew up playing many sports however the sport he enjoyed the most was lacrosse. He has played professionally for the 2001 Buffalo Bandits, was with Team England at the World Indoor Lacrosse Championships in 2007, and in 2008 and 2009 helped the Brampton Excelsiors capture the Mann Cup.
For the past 3 years he has been the Strength and Conditioning Coach for the Toronto Rock. In addition he still currently trains former NLL MVP and 2013 NLL Champion Dan Dawson of the Rochester Knighthawks.
Sean works with a number of current and prospective NCAA players and does performance training for Revival Lacrosse, the top lacrosse camp in Canada. Sean has worked with Edge Lacrosse, the number one field lacrosse program in Canada that has had great success in helping young lacrosse players move on to the NCAA level.
Sean has been featured by Inside Lacrosse, STACK, Lacrosse Playground, Lacrosse Training Experts, SunMedia, Workout Matrix, NLL Radio, and Lacrosse: Inside The Game.
The combination of Sean's desire to stay up to date with current research, his ability to apply it specifically to the sport of lacrosse, his knowledge of what it takes to play at the highest level, and his proven successful track record working with the best players and programs make Sean a highly sought after lacrosse performance coach.