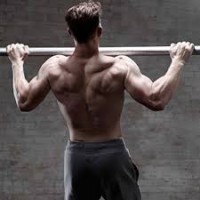 By Wayne Burke
-February 2nd 2016-   I had a session with a client yesterday and after a set of chin ups she asked "how strong should I be?" (I think what she was really asking  me was how many chin ups should I be able to do?)  This question led us to a great discussion and an "ah ah" moment for this athlete as to why we do many of the things we do.
It can be difficult to determine how strong an athlete should be.  I think if you were to ask athletes, coaches, parents and strength coaches you'd probably get a wide variety of answers.  While it is impossible to determine what level of strength will result an increase of goals scored during a lacrosse season, we should be able to agree that if you improve your overall strength you will be able to run faster, stop and start more effectively, hit harder, absorb contact more efficiently, shoot harder and help prevent more injuries which in turn, should help your overall performance.
With that being said, it still leaves us with the question, how strong is strong?
When looking at strong, I tend to look at strength to body weight ratios or I like to compare certain lifts to one another to determine if an athlete has enough strength and if the athlete has a great balance of strength.  The standards that I use come from 15 years of experience  along with the findings of of some of the best strength coaches in the industry Mike Boyle, Dan John and Matt Nichol to name but a few.
Here are some of the strength standards that I use for my high school/college/university aged athletes:
Hang Clean = Front Squat= Bench press
Back Squat= Body weight (female), 1.5x body weight (male)
Chin ups- Male Double Digits, Felmale 3-5
Deadlift- Body weight (female), 1.5- 2x bodyweight (male)
Side Plank >60 sec per side
1 Rep Bench Press Max = 1 Rep Chin up Max
Keep in mind there are many athletes, both male and female, that surpass all of the standards that I have outlined above. These are just some simple guidelines that I use when I test athletes or teams as to what I would expect from the strong athletes.  Not everyone has the ability to perform each of these exercises correctly nor should they without proper supervision.
For the most part, I thinks it's most important to look at overall balance and symmetry when looking at your strength. Can you pull (chin up) as much as you push (bench press)?  Can you squat as much as you bench?  These are all characteristics of a balanced program.
At some point during high school or when you get to college/university, you will come across some sort of physical testing that will test your strength. Sometimes this sends a message to the coach to help them determine how hard you worked in the off season or how prepared you are to handle the upcoming season.
Are you ready?
If you have any questions about training, programming or you would like to have a strength and conditioning program designed specifically for you, contact us as strengthcoachburke@gmail.com or sean@thedynamicathlete.ca.
Tags: injury prevention, injury reduction, lacrosse training, lacrosse workouts, smart lacrosse training, stability, Strength Training