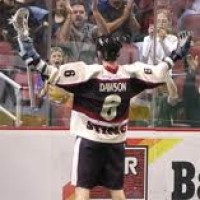 -December 9th, 2012-
Here's a quick video of Dan and Paul Dawson training at The Dynamic Athlete, located inside the Toronto Rock Athletic Centre (the TRAC).
Dan is doing weighted neutral grip pull ups with a 36 pound weight vest followed by med ball slams to utilize what is called post-activation potentiation. Basically it is a heavy resistance exercise followed by a power exercise using the same muscles to maximize power output.
Paul is performing Trap Bar Deadlifts and is pulling over 400 pounds!
It's an impressive place to be when those guys are in there working.
P.S. Enter your name on the right and get the actual program Dan Dawson used to prepare for the 2012 NLL Season for free!
P.P.S. If you are anywhere near Oakville, Ontario and interested in training at The Dynamic Athlete please feel free to email me at sean@lacrossesc.com.
Tags: dan dawson, deadlifts, lacrosse training, Oakville Ontario, Paul Dawson, The Dynamic Athlete