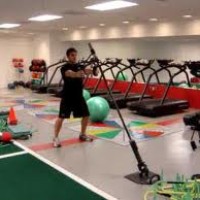 -May 29th, 2012-
Landmines are a great exercise you should be including in your lacrosse training program.
They train anti-rotation of your core. You should feel a small pull in your abs on the opposite site of your body than the bar is on.
A strong, stable core will allow you to transfer force through your hips into your arms giving you a harder shot as well as making you much stronger on defence.
The key is to avoid any rotation in your body and to keep your arms as far from your body as possible.
P.S. Enter on the right to get Dan Dawson's Strength Training Program FREE and see where and how Landmines are included in his program. Check out both Phase 1-Day 4 and Phase 3-Day 1!
Tags: anti-rotation, core stability, core training, landmines