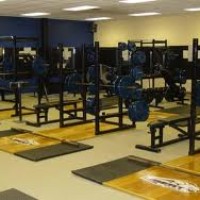 -February 14th, 2012-
I have worked with a lot of High School Lacrosse players, and I would say that every single one of them had aspirations of playing at a higher level.
That higher level is the NCAA, and more Canadians than ever are playing south of the border.
Skill wise I am sure the players are prepared to make the jump. But physically we still lag very far behind the American players.
The Strength and Conditioning culture in the United States is second to none. If you are a Varsity athlete in High School, you are doing some sort of training program for your sport.
Their High School weight rooms put almost all of our University weight rooms to shame.
I fear that the vast majority of Canadian players arrive on campus in their Freshman year already 2 years of development behind the American players.
The Strength and Conditioning part is extremely to these schools, and the coaches absolutely love their numbers. Your 40 yard dash time, Max Squat and Bench Press play a part in your field time.
Here are some videos of some NCAA Lacrosse teams training:
While most Canadians would be seeing some of these extremely technical Olympic lifts for the first time, their American counterparts will have mastered them years ago and be loading them up as heavy as can be.
Training is just part of their culture!
I know that my athletes will be prepared when they head down to play NCAA Lacrosse.
I know that Joe French will be able to hang with anyone from the top video when he arrives at Georgetown in 2013. He will have been lifting like they are in that video for years before he even steps on Campus.
But are you prepared to play and train at that level?
P.S. If you are in the Toronto or Guelph area and interested in training to play at the next level email me at sean@lacrossesc.com. If you don't live in that area check out the Online Lacrosse Training option.
Tags: georgetown hoyas, joe french, lacrosse training, NCAA Lacrosse, Rutgers, Strength and Conditioning