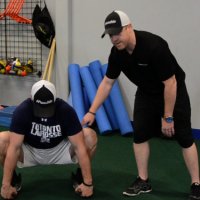 By Sean Holmes
-January 15th, 2016-
Another mobility drill that you should be doing before every lacrosse workout, game, and practice to have you moving better and ready to perform at your best.
The Sumo Squat to Hamstring stretch is a great 'bang for your buck' exercise as it works a lot.
We stretch the hamstrings, the adductors (groin), and greatly open up the hips which are the largest joint in the body.
(If you love lifting this is great for improving your squat form as well)
Key is to make sure the arms are inside the knees pushing them out at the bottom, and that you always stay on your heels.
Tags: flexibility, injury prevention, injury reduction, lacrosse training, mobility, toronto rock