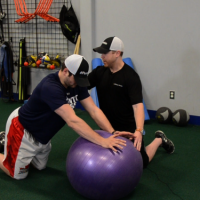 By Sean Holmes
-December 3rd, 2015-
In this video I have Brett Hickey demonstrating the Stability Ball Rollout. This is a great core stability exercise that we use.
The key is maintaining a straight line from the knees to the shoulders, maintaining our "Pillar" the entire time.
If you've read my article on Core Training For Lacrosse then you know core stability is the most important function of the abdominals.
Check out the video below and add these into your lacrosse training program.
Tags: core stability, core training, injury prevention, injury reduction, lacrosse training, Strength Training, The Dynamic Athlete, toronto rock