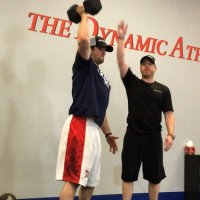 By Sean Holmes
-December 18th, 2015-
Here is the latest Episode of my Lacrosse Training Tips feature with the Toronto Rock.
The Single Arm Snatch is our level 1 progression of the Olympic Lifts.
Olympic Lifters are the most powerful athletes in the world and I use safe variations of the lifts to make my athletes more powerful on the floor/field.
We are training the coveted triple extension of the ankle, knee, and hip joints. Every stride we triple extend our leg so the more power we have in that movement, the more it will directly translate to our speed during the game.
I only use 5 or 6 reps each side with this. That makes it so we aren't using a maximal weight where we increase risk of injury and we aren't doing so many reps that we fatigue and our form breaks down.
This is a great exercise, and an easy intro in the very technical Olympic lifts that I use with athletes as young as 12 years old right on up through the Pro players.
Tags: acceleration, lacrosse training, Olympic Lifts, Power, Speed Training, toronto rock, triple extension