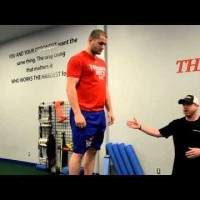 By Sean Holmes
-January 28th, 2016-
The Depth Drop is an exercise you can easily include in your lacrosse training program to increase your potential to be powerful.
The key is to land soft in a balanced, athletic stance and hold that position for 2 seconds. This allows your body to learn how to store force so that later it will be more efficient at turning that force into power.
Make sure both feet hit the ground at the same time. Don't pick a box/step that is too high. This is about being perfect. It may seem and feel easy but it can be taxing on your nervous system. Perform 5-8 reps.
Tags: acceleration, agility, change of direction, injury prevention, injury reduction, lacrosse training, Power, Speed Training