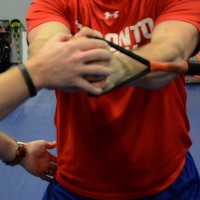 by Sean Holmes
-February 4th, 2016-
The Anti-Rotation press is a great exercise we use to develop core stability with our lacrosse players.
The primary function of the core is to be stable, and as such we must train it to resist flexion, rotation, and extension. If you need more info on the core check out the article I wrote years ago: Core Training For Lacrosse.
Having a strong, stable core will allow you to transfer force from your lower body through your torso without any energy leaks. It will allow you to be more balanced, shoot and hit harder, and even run faster.
This exercise can be done with a band as seen in the video, or a cable machine at any gym. We vary using it for reps or holding it extended out for time as well just as you would a plank.
Ditch the situps and add this into your lacrosse training program immediately.
Tags: core stability, core training, injury prevention, injury reduction, lacrosse training, lacrosse workouts, Strength Training, toronto rock