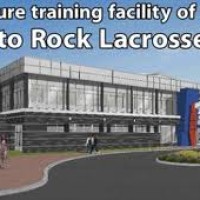 -October 16th, 2012-
Early October the brand new practice facility for the Toronto Rock was opened by hosting the NLL Combine.
Located in Oakville, Ontario (QEW and Trafalgar area) the rink is amazing. It features 2 practice floors, one turf and one concrete. It will house the Toronto Rock offices as well as have a private Players Only area including the Rock dressing room.
The rink will also have a retail store for all your lacrosse equipment needs.
But best of all, I will be opening The Dynamic Athlete!

The Dynamic Athlete will be a State of the Art sports performance training facility helping players of all sports improve their athletic ability to not only reach their goals but surpass them and achieve their dreams!
Below are some pictures, first how it looked the day of the Combine and the new ones are from this past weekend with the floor almost completed.
(It's still very dusty in there, once it's cleaned up that blue floor is going to look great!)
By the end of this week I should be able to start putting equipment in there and I'll be sure to post the pictures as the gym progresses. Hopefully it will be up and running by November 1st, 2012!
If you are interested in training at The Dynamic Athlete please feel free to contact me at Sean@LacrosseSC.com