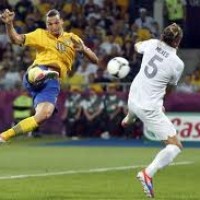 -June 27th, 2012-
I'm at a local establishment here in Guelph right now watching the Portugal-Spain Euro Cup Semi-Final match.
It reminded me that years ago when I was first looking for Lacrosse Training programs for myself I would often find suggestions that I just find a Soccer Training program and complete that.
After all, there are some similarities between Soccer and Field Lacrosse.
Over the course of a game a player may run a few miles, but it's always short, repeated bouts of sprints.
The need to change direction and some of the footwork drills that would help Soccer players would also transfer over.
But there is one main difference between the two sports: CONTACT!
And that is a HUGE difference.
The conditioning and the movement drills may transfer over from Soccer to Lacrosse, but the Strength training will not.
As a lacrosse player, if you are not strong enough you will get exploited during a game.
You'll get knocked off the ball, stripped, knocked down, ran over. You'll be more likely to be injured.
You also won't be near as fast as you could be as strength is the basis for speed.
(I guess I should also mention another thing that wouldn't transfer over from Soccer to Lacrosse is all the flopping the players do!)
I respect these players I'm watching now, but copying a training program specific to them is not the answer to improving your performance on the field.
Train for Lacrosse!
P.S. If you would like to see what a Strength Training Program looks like, enter on the right and get NLL MVP and Team Canada member Dan Dawson's EXACT strength training program for FREE!
Tags: Conditioning, Euro 2012, Lacrosse Specific Training, Speed Training, Strength Training