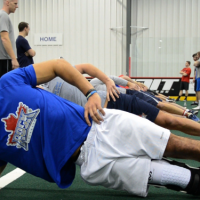 By Sean Holmes
-December 16th, 2015-
Over the weekend I was in charge of performance testing for the Toronto Rock. We like to keep it pretty simple as it's in the morning and the team plays an exhibition game at night.
The reasoning is to hold the players accountable to each other that they are all working hard to be the best player that they can be.
The performance tests I chose were Chinups (max) and the 300 Yard Shuttle (25 yard distance, 90 seconds rest between reps).
We also did a 1 minute Side Plank on each side but that is more a predictor or injury than a performance test.
I got the idea from Matt Nichol who found that there is a great correlation between those unable to hold a Side Plank for :60 and "Man Games Lost" with his NHL players.
Check out the video:
Tags: injury prevention, injury reduction, lacrosse training, NLL, side planks, smart lacrosse training, testing, The Dynamic Athlete, toronto rock