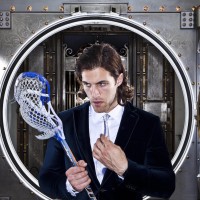 By Sean Holmes
-January 27th, 2016-
I found this article on a great site laxmagazine.com.
It details lacrosse being the fastest growing sport in the NCAA and that both Men's and Women's lacrosse are in the top 5 in Grad rates.
I'm posting this because it goes along with something I tell all my high school athletes that I train.
While I encourage all of my athletes to aspire to play at the highest level and possibly reach the Pro levels one day, the process and journey of reaching that goal is much more important.
See even at the Pro level very few (ie only Paul Rabil probably) can make a living solely playing lacrosse. Which means every other player needs to work.
Which then means that school is very important compared to other sports with Pro levels. If you reach the Pros in any of the 4 Major sports you likely don't ever need a college education, you will make enough money (if you are SMART with it) to live your life well.
But the be all end all goal of lacrosse should not be the Pro level. If you reach it, great.
However the real reward from lacrosse is the NCAA level and getting a high quality college degree that will allow you the opportunity to have a great career outside lacrosse.
On top of that, an article back in 2013 on Bloomberg.com outlined that there is a Wall Street Pipeline that actual finds lacrosse players jobs once they graduate.
It's the alumni of the school you attend that will have a greater impact on your future earnings than your lacrosse potential.
Use lacrosse as a vehicle to see the world and to get a great education and to set you up for a great career.
It really is the greatest sport in the world!
Here's the full Bloomberg Article: Wall Street Pipeline for College Lacrosse Players
Here's the full article from LaxMagazine: Lacrosse Fastest Growing NCAA Sport with Top Grad Rates
Tags: field lacrosse, NCAA Lacrosse, NLL, Paul Rabil