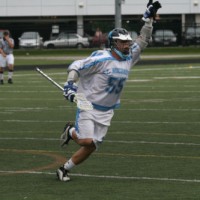 -February 19th, 2012-
Here is a Blog that future Georgetown Hoya laxer Joe French wrote this past week.
Joe's put in the work and seeing the results. Congrats Joe, and thanks for the kind words!
"IF YOU ARE YOU A LACROSSE PLAYER INTERESTED IN GETTING BIGGER, STRONGER, AND FASTER? YOU WANT TO HAVE A COMPETITIVE ADVANTAGE OVER YOUR OPPONENT AND  HAVE THE BEST SEASON OF YOUR LIFE… Then listen up.

3 years ago I was in the same shoes as you, and I did something about it. I took the next step to get better. Here is how.

My freshman season at St. Michael's was mediocre at best. I averaged 3 goals a game and played a starting role. We lost the Independant Schools championship, and fell short of our OFSAA goal. I decided that the next 3 years of highschool would not be the same, I decided to make a change.

In terms of reputation among current NCAA, NLL, and MLL players, Sean Holmes of Pro Lax Training  (@prolaxtraining) is the unanimous favourite. Sean is not only the best trainer for his tough workouts, but in the way he trains his athletes, to compete.

So I emailed him, SEAN@PROLAXTRAINING.COM, and said I want to get started, what do I do? Sean not only created a personalized plan that worked for me, but explained why we were doing each exercise and how it was going to help me get better, not tired. Anyone can take you to a gym and gas you, not everyone can make you better.

So 3 years later, I am happy to say every single goal I set with Sean I reached. 2 National Championships, 2 Provincial Championships, 1 Canadian MVP, 1st All Canadian Selection, and most importantly a member of Team Canada U19. Each of these goals I set with Sean, and each one we mapped out how to get there.

If your serious about getting better, check this guy out and see if it works for you. If Dan Dawson, arguably among the NLL's most explosive offensive player, if not the best, can go to Sean for help, so can you.

If you'd like a taste of what he has to offer check out his website, www.lacrossesc.com. The guy is legit, and so are his workouts!"
Check out Joe's blog at http://joefrench.posterous.com/
To get an idea of what Joe's personalized program looked like, enter your email on the right of the page and get NLL Star Dan Dawson's program FREE!
Tags: 3D lacrosse, Georgetown, joe french, St Michaels College, team ontario