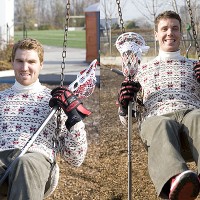 -June 15th, 2012-
I'm headed to Montreal in a few minutes to see Radiohead tonight, so just a quick post today with video of Dangerous Dan Dawson's AMAZING game winning goal from last night as his Brampton Excelsiors beat the Ajax Rock in MSL action.
A 1 handed, behind the back, underhand game winning goal with a defender all over him in the last minute of the game.
It's a must see so I had to post it. Plus any reason to post that picture in the Thumbnail of Dan and Brodie Merrill is reason enough for me.
The crazy thing is I've seen him score like this before. It's not the first time and probably won't be the last time.
Incredible!
Check it out below, and if you want to see exactly how Dan trains to prepare to be strong enough to hold off defenders with one arm while scoring highlight reel game winners, enter your email on the right and get his Strength Training program for FREE!
Tags: Ajax Rock, Brampton Excelsiors, dan dawson, MSL