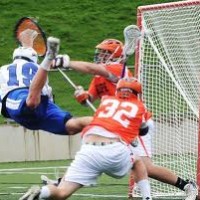 -July 13th, 2012-
I had a few people ask questions about the video I posted a couple of weeks ago of a Power Endurance circuit I did.
Basically they wanted to know of a circuit they could do that would provide the same results even though they don't have access to the awesome equipment and space I'm so fortunate to have at Shift Performance Training.
I put together the video below to show a Bodyweight circuit you can do that requires zero equipment and very little space.
You can do it in your living room or if you are a coach you can have your team do it together on the field to end practice.
The circuit is: 20 Squats, 20 Alternating Forward Lunges, 20 Alternating Lateral Lunges, 10 Squat Jumps.
Try to perform 1 rep per second through the entire circuit but do not sacrifice form or range of motion for time. Just try to complete it perfectly as quickly as you can.
Note: I filmed these clips for the purpose of a warm up and just put them together for this circuit to show the exercises included, that is why I am not performing them as quickly as I am saying to do them.
Complete the entire circuit, rest for 60 seconds and then perform the circuit again. As you improve you can even add in a 3rd set.
Give it a try, You will feel your legs burning!
Tags: bodyweight training, lacrosse training, Power Endurance